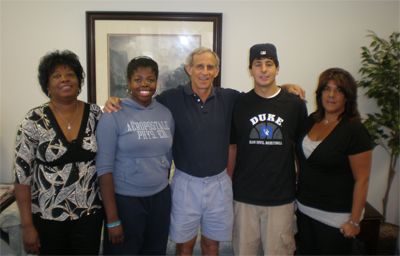 We encourage others - foundations, corporations, government agencies, and individuals, who wish to establish programs of support, guidance, and intervention for at-risk students to "steal" our idea. Let us challenge each other to develop programs that will inspire students to succeed and strive to make this support accessible to every child that needs it.
In 1992, I was involved in my first school-based program working with students in the Westbury, Long Island school district. At that time, I sponsored a class of forty-six fifth graders as part of the "I Have a Dream" Program. Like Earn and Learn, the "IHAD" Program provided mentoring to at-risk students and shared that goal of having the students graduate from high school and move on to college or vocational school.
In developing Earn and Learn, I called upon my experience with IHAD, incorporating the strengths of that program as well as initiatives from other educational efforts (A special thanks to Roger Reiger whose extrinsic reward program was the early model for Earn and Learn). I see Earn and Learn as a work in progress with continual reevaluation and tweaking to better serve its students and to yield a better return on my investment.
With that collaborative process in mind, the spirit and philosophy of Earn and Learn are best summarized by the following:
IF YOU HAVE A GOOD IDEA, I WILL "STEAL" IT FROM YOU,
AND IF I HAVE A GOOD IDEA, PLEASE "STEAL" IT FROM ME.
I Want To Help!
Other Programs: